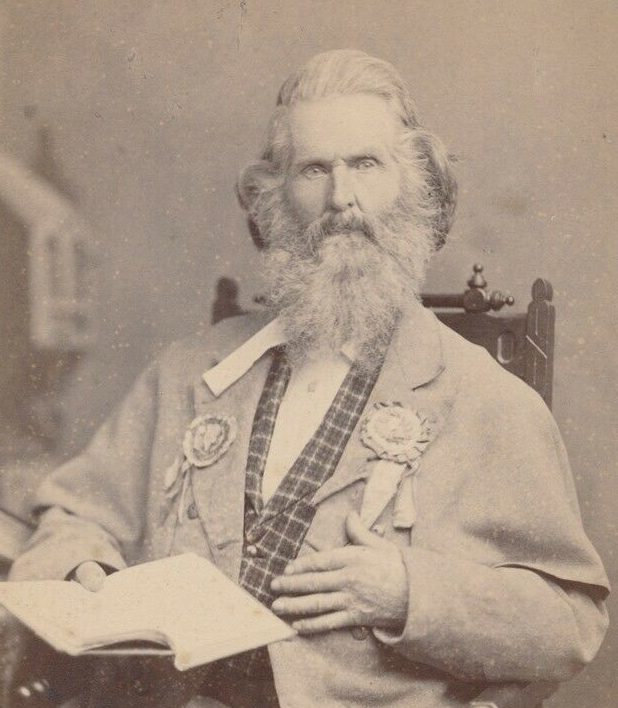 So here we have a very interesting Original Cabinet Card Photograph, c. 1870s – 1880s.
The story behind this photograph and my research of it is pretty amusing.  Upon discovering this photograph, I was immediately taken by the subject; his pose and attire suggested to me that he could have been someone of importance and that it was worth further research.
But then I see the strange scribblings on the bottom of the card, and when I flip it over to see if the back has any more information my mind was literally blown.
The back is completely full of some unusual writing, what to me looked like some kind of code.  Upon several failed attempts of my own to decipher it, I enlisted the aid of the American Cryptogram Association.
I wrote to the "historian" and was promptly replied to by "honeybee" (the use of code names I found rather pleasingly appropriate).  The format posed little challenge to the cryptic-minded brain of the translator, who provided me this: (punctuation added by myself to help readability, grammar/spelling sic):
---
"I am Elias Gove Emanuel, the the Prince ove Peace, the second mesiah. I will light up the grate transparent etheraealised grate white light. Promised white as snow. I am the baptiso.
Long ago the refiners fire is was also shll be, the new baptism, ove the holy fire, ove perfect love.  I Elias Gove Emanuel protest against all water ceremonial water. One is flattering the other ove fear ove the waters ove infidels, who deny God because those Herods waters ove the helles many water represents the chil ove death with hells many.
My Holy mother with me, her beloved son Elias Gove, held sister Dorothy Jane gone. With faith healing removed all pane. Placing her in perfect position we embalmed her meterael body celestially, then we, my holy mother with me, Elias Gove Emanuel, we then translated her in glory.
I have cald her part ove her immortal soul to prove my infallibiling to preach the gospel ove the new kingdome I create. My own mirror also saw her, her immortal soul, life mirrowed into my presence, glorhe in white."
---
Now after reading that, I'm sure you're as fascinated as I was.   This fascination pushed me into further research, digging through archives of newspapers and records, and even contacting the Historical Society of Lewiston, Maine. (who also have a good amount of information on this man, if you should wish to obtain more)
This all leads me to the most amazing and hilarious discovery of all.   In January of 1865, a letter from this Elias Gove found its way on to the desk of the newly re-elected president, Abraham Lincoln. The letter, in summary, stated that Gove believed he was responsible, by God's design, for Lincoln's successful re-election.  Therefore, he was entitled to the sum of 1 Billion dollars for his services.  He also demanded various other wild things.
Lincoln officially endorsed the letter with the simple phrase: "Crazy-man".

This letter is held in the Library of Congress as part of Lincoln's general correspondence collection. It has been digitized and can be viewed online.
The photograph is marked "Paul's Block – Lewiston, ME".  This is likely attributed to photographer Cyrus W. Curtis, who can be found listed at the address c. 1870-1880s.
Recently, there was an amazing write-up on Gove and his history done by the Sun Journal in Maine. Apparently, he is a local Lore icon. They actually featured our photograph in the article!  
-Justin